Free Fire Tricks: Best tricks (Become Pro in Free Fire) |
Hey everyone, In this post, I am going to tell you the best tricks for a free fire these tricks will surely help you to become a pro-free fire player in 2020.
This tricks are written by the pro free fire players.
You won't get these free fire tricks in any of the youtube videos or any other blog post so please read carefully and If you want to thank me then comment.
Tricks 1 :- Get a Proper Weapon Combo
One of the best Free Fire tips and tricks for free fire guild are having a correct weapon combo and using the right gun in a current shooting range. If you want to master any multiplayer game then you should know this tip.
Here i will give you some best weapon combos
AN94 + MP40 ( Damage house with less recoil )
P90 + M60 ( bulk store house of bullets )
XM8 + SPAS12 ( OP Damage gun combination )
Mp40 + FAMAS ( less recoil combination )
Ak + Kar98k (deadlest long range combination )
M60 + M1014 ( Killer Queen combination)
Scar l + thompson (Easy to use combination)
When you fight in a close range (near range), you should use an SMG or shotgun. Assault Rifles in free fire are the best choices for middle and long-range at which SMG and shotgun can not cause much damage to enemy.
The Sniper Rifles are the best weapons for long and distance range in your game. When you are running, keep a machine gun in your hand to get ready for any upcoming or near enemy.
Whenever enemies are running and jumping, use Assault Rifles to hit and target them properly.
Bits is a Fortnite partner which is similar to the game of free fire you can visit the link Distribuidor Fortinet.
It will sound un-realistic and illogical but it is true in this game. If you can't afford these skins, you can use Free Fire diamond tricks and generators to get unlimited gems. Check out how to get unlimited Free Fire diamonds here.
Tricks 2:- Understand Your Weapons | (Free fire tricks)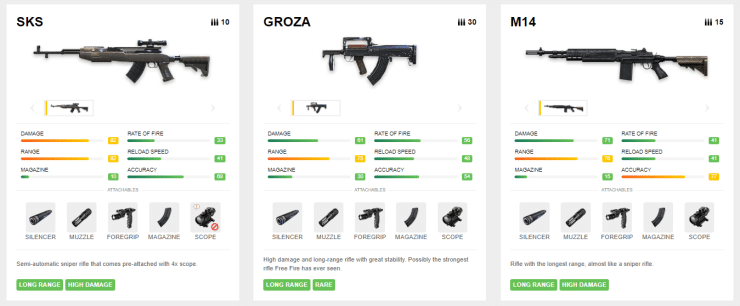 One Another pro tip for Free Fire game player is knowing your weapons well, For Eg:- the distance covered by bullet and shooting capacity, damage capacity of guns and bullets, etc of every gun you have or you use.
In free fire There are six majorly groups of firearms in Free Fire:
SMG guns
Shotgun
Assault Rifle,
Sniper Gun,
Pistols
Other weapons like pan, bat, grenade, crossbow, and parang.
And even You should be aware of some basic features of your forte weapons, including power, clip size, range, accuracy, rate of fire and many other features.
One of the most amazing Free Fire pro tip is putting a pan on your back. It will protect you from firing from enemies behind and it will also warn you by producing a metallic sound.
Tricks 3 :- Crouch To Avoid Shotgun Bullet
Although shotguns cause great damage to players means your enemies, these weapons can release only one bullet per shot. Then, it takes this gun a short period to reload the bullets for next shot.
By using this point, you can prevent to get shooted down by shotguns by crouching method.
Whenever any enemy fires at you with a shotgun, you can crouch to avoid the bullet shot, then fire back at him/her while the player is reloading ammo for the next bullet shot.
Tricks 4 :- Practice In Clash Squad Every Day
Enjoying Clash Squad game is one of the Top quality pro tips for Free Fire.
It is a good and even better way to practice shooting and creating a quick glue wall in this free fire game. Lots of pro players improve their game skills a lot by playing Clash Squads every day.
In free fire This game mode is like a training room where you can improve your skills and prepare for ranking games to boost ranks.
Tricks 5 :- Free Fire Pro Tips For House Attacks
Now… One of the best Free Fire pro player tips is using grenade before rushing into houses of the other players.
The explosion by the hand grenade or moctail will causes some damage to the enemies who are camping inside the houses. Then, you can rush into the house and kill them with only some bullet shots.
Here the next ultimate pro tip for rushing into houses is moving quietly without much sound. While moving, press the med-kit button to move silently in the enemie's house.
It is very helpful because you can make sudden attacks into the house without giving any notice to the opponents inside the house.
Tricks 6 :- Know Your Character Well | (Free fire tricks)
The another best and pro tip for a pro player is knowing your character well. There are more then 15 characters with different strengths and skills in your game.
You should know them well to get the best uses of their strengths and promote their abilities with little knowledge.
The actual tip is using Miguel's character with the specialty of the crazy slayer that gives him EPs for each kill and provides him with the power of Kia and Kelly at the same time.
Miguel, with Kelly and Kia's strengths, is the ultimate combo to become a pro.
Tricks 7 :- Proper Tactics for Certain Games
To become the last man standing on the map ( Nice Quote :-), you should have an appropriate plan for each game.
The Killing Spree is very much suitable for squad mode when you are in a squad team and have to do daily tasks in your game, Elite Pass missions, or veteran missions.
In Squad or Duo mode in ranking games, you should fire and hide while playing, try to survive with your teammates till the end of the battle to earn ranking more points. Evading is the best tip for every mode.
Don not feel ashamed when evading for surviving if you cannot alone fight against a team of four or three at the same time which you also call squad wiping.
Your aim is to become a last standing man in your match. So, having a proper tactic is one of the essential Free Fire tricks.
Tricks 8 :- Participate In Custom Room Matches
On youtube there are lot of YouTubers and pro players creating custom matches every day for live-streaming or practicing the gameplay and improve your skill. You should join in and test your level in these custom matches.
There, you will meet lots of pro players or top players all over India.
The competition level is very high and you can learn a lot of tips and skills from those players. So, This is one of the top quality Garena Free Fire pro tip you must try to become pro-ASAP.
Tricks 9 :- Best Free Fire Tricks: Weapon First
After landing from the plane and after closing, you need to run around and find armor and weapon first before any of enemy could find you.
It is the rule of every battle royale game like PlayerUnknown's Battlegrounds or Fortnite Battle Royale. Don't try to find other supplies before the weapon.
You will need a gun in your hand to defend yourself when you meet other players by chance in the starting of your game.
Then, run to find an armor. It would be lucky if you can find high-level armor and helmet to protect your body from attack from your enemy.
Then, you can move forward and get different types of supplies like a bag, more than ten medical kits, a cooking pan, more than one Target scope, for your guns.
Tricks 10 :- Keep Your Eyes on the Safe Zone (Free fire tricks)
One of the best Free Fire tips is checking the mini-map to check where and when the safe zone shrinks to dash for this zone. Make sure that you are in the white round when the zone starts to shrink.
If you are out of the white color round, you will get injuries. A pro player should know when to enter the safe zone and stand until the end of the game.
Tricks 11 :- Hunt For Enemies In The Shrink Zone
Pro players are not afraid of taking fights in the shrink zone because they can find lots of prey to kill there.
Moreover, playing near the shrink zone helps you learn how to play as a predator, make and exploit available covers, and when to engage the combat.
It's very helpful for you to improve your skills instead of evading from combat and still die as a coward.
Tricks 12:- Trees Vs. Vehicles | (Free fire tricks)
Always Vehicle helps you to move around the map and sometimes kill an enemy from behind while driving. But when the game is coming to an end, you will meet heroic and pro players remaining on the battle ground.
And the vehicle is so noisy that it would attract others' attention and you can be victim of someone's firing.
Driving in the smaller safe zone makes you be a firing target in the small area. The tip is run on your foot and hide behind trees.
Better then it you can use a surfboard. It will help you to move fast and smooth without noise.
Tricks 13 :- Save Your Life with Glue Ball (Free fire)
One of the best Free Fire tricks to win a fight is using glue ball, a real life saver when you are in an open area is only glue wall.
In the small area always keep the glue wall in your hand rather then a putting a assault rifle gun.
Whenever you are fired at heavily and get no trees or houses to hide behind, glue ball would be an effective temporary shield at that time.
It gives you enough time to heal and make a good decision of whether evading or firing back to the enemy.
Tricks 14 :- Free Fire Tricks for Airdrop Loot
Whenever you see the light emitted from an airdrop, don't rush to it right away directly. Wait and check the surrounding area carefully around you.
Many-times, enemies may lie in ambush around and wait for you to come. Then, the airdrop will become a bait.
However, if there are no enemies around you, quickly loot the weapons and supplies in the airdrop and run away.
You can also lie and wait for other players to make some kills in your profile.
Tricks 15 :- Practice Sniping | (Free fire tricks)
Another way to improve your shooting skills in your game is by practicing sniping in training mode of the game.
It helps you to improve your aiming skills a lot. You should play in a solo mode, take a sniper rifle gun and suitable attachments according to it, and start practicing every day without wasting any time.
That's one of the best and secret Free Fire pro tips you should practice now to become pro soon in free fire game play.
Tricks 16 :- Keep Check the Mini-Maps (free fire)
You should be alert and keep your eyes also on the mini-maps on the corner to check the movements of your team-mates, the safe zone, dangerous area, and position of vehicles on the island.
Looking at the map, you also know where the fire at you comes from to hide and fire back. The tip is to check the enemy's movement on the mini-maps captured by UAV.
Tricks 17 :- Proper Use Of Glider And Surf Board.
Use of these this can make your performance better and even worse. The key is proper use of it.
But how to use it in free fire:
Use to identify the supplies on a specific area by taking a run up from a height.
Don't use vehicles in small safe zone it can alert your enemies with there noise rather you can use surf board.
Use can keep a spy eye on enemies from a height by using glider.
Always keep a glider or surfboard it will help you to jump from a height without damage.
By using glider you can go to some high points to hide properly and attack on your enemies.
You can use rope gun to fly in heights and by clicking cancel you can fly with glider.
Some More Tricks To Practice On Daily Basis:-
Watch badge 99 videos or any other pro videos on youtube
You can Watch game-play videos…
Learn about hiding places in your battleground games.
You can buy weapons skins… which can help you from surviving by dealing more damage and make more kills.
Buy skins or elite pass if possible or have financial support. Cause costumes terrify other players thinking that you are a pro player…
Practice the jump and shoot method in your games. And correct use of your every weapon.
Play casual squad. To improve your skills and gameplay… Never play ranked squad… Until you are fully perfect and a real pro player… Cause if you die so fast… Then you will lose rank points about 50 – 60… Which is very much disappointing… Play ranked solo… And get at least 2 – 3 kills and reach the top 5… you will get about 28 points as a reward…
For better pro tips… Watch free fire India videos… Which is the best for beginners like you I think.
Use the above tricks on a daily basis of your gameplay to become pro players in your particular game either in free fire or pub.
Land on the places when there are more enemies to improve your striking power in your game. Don't land in isolated places it will decrease your striking power.
10 Tricks To Always Win In Free Fire.
Tips for free fire:
Do Not Open Your Parachute by tapping on the button for it. Let it open automatically or else you will be for more time in the air while others can attack you from the ground or the top of the buildings.
Stay away from combat in the beginning.And do not chase the passersby.
Firstly focus on getting Armor for protection than weapons firing.
Do not rush for Airdrops first.Instead go towards it and prepare an ambush and take some headshots. If you want to survive in long run don't be greedy.
If you managed to reach the end focus on medical kits than finding new loots
Play with headphones_you can't miss the sound.
Always think you do not have to enter the buildings to check the rooms and find enemies, you can do it by looking through windows from nearby buildings.
Use mini maps to look if someone near by shooting.If yes then it's time for ambush.
Now The last trick is —The free fire game is basically about Survival of the best and not fall for counting number of your kills you have done while playing.
Do some HW on your Smart devices But make your Play time for Limited hour guys to prevent eye damage.
Playing daily for some time will make you best but Giving lots of hours for few days will cost you rather than benefitting.Let the power of compound effect does it's work .
Source of the answer is mostly experience and from friends who are playing professionally.
Conclusion:-
Hope you liked this post, This post is totally based on free fire tricks. I have suggested many tricks which you can use to become pro player of free fire.
These tricks are really amazing and also can be under stand by any normal player of free-fire.
I have also suggested a youtube video which you can use as a proper guide.